Black Books Matter: Children's Books Celebrating Black Boys
Each year, there are more children's books published about animals than Black people. Black people have historically been, and continue to be, underrepresented, misrepresented, or invisible in children's literature. Black male characters are even less visible, and even fewer still, are books reflecting positive and empowered depictions of Black boys.
The Conscious Kid Library curated this list of 25 children's books celebrating Black boys, in partnership with Moms of Black Boys United. These books center, reflect, and affirm Black boys, and were written and illustrated by Black authors and artists.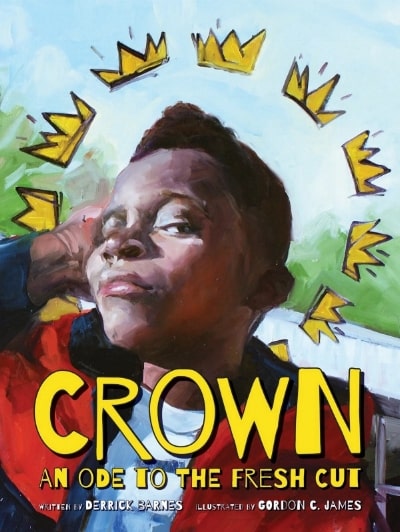 Crown: An Ode to the Fresh Cut by Derrick Barnes, illustrated by Gordon C. James: The barbershop is where the magic happens. Boys go in as lumps of clay and, with princely robes draped around their shoulders, a dab of cool shaving cream on their foreheads, and a slow, steady cut, they become royalty. That crisp yet subtle line makes boys sharper, more visible, more aware of every great thing that could happen to them when they look good: lesser grades turn into As; girls take notice; even a mother's hug gets a little tighter. Everyone notices. A fresh cut makes boys fly. This rhythmic, read-aloud title is an unbridled celebration of the self-esteem, confidence, and swagger boys feel when they leave the barber's chair — a tradition that places on their heads a figurative crown, beaming with jewels, that confirms their brilliance and worth and helps them not only love and accept themselves but also take a giant step toward caring how they present themselves to the world. The fresh cuts. That's where it all begins. Crown: An Ode to the Fresh Cut is a high-spirited, engaging salute to the beautiful, raw, assured humanity of Black boys and how they see themselves when they approve of their reflections in the mirror. Ages 3–10.
Malcolm X: The Boy Who Grew Up to Become Malcolm X by Ilyasah Shabazz, illustrated by AG Ford: Malcolm X grew to be one of America's most influential figures. But first, he was a boy named Malcolm Little. Written by his daughter, this inspiring picture book biography celebrates a vision of freedom and justice. Bolstered by the love and wisdom of his large, warm family, young Malcolm Little was a natural born leader. But when confronted with intolerance and a series of tragedies, Malcolm's optimism and faith were threatened. He had to learn how to be strong and how to hold on to his individuality. He had to learn self-reliance. Together with acclaimed illustrator AG Ford, Ilyasah Shabazz gives us a unique glimpse into the childhood of her father, Malcolm X, with a lyrical story that carries a message that resonates still today — that we must all strive to live to our highest potential. Ages 6–10.
Trombone Shorty by Troy "Trombone Shorty" Andrews, illustrated by Bryan Collier: Hailing from the Tremé neighborhood in New Orleans, Troy "Trombone Shorty" Andrews got his nickname by wielding a trombone twice as long as he was high. A prodigy, he was leading his own band by age six, and today this Grammy-nominated artist headlines the legendary New Orleans Jazz Fest. Along with esteemed illustrator Bryan Collier, Andrews has created a lively picture book autobiography about how he followed his dream of becoming a musician, despite the odds, until he reached international stardom. Trombone Shorty is a celebration of the rich cultural history of New Orleans and the power of music. Ages 4–8.
Radiant Child: The Story of Young Artist Jean-Michel Basquiat by Javaka Steptoe: Jean-Michel Basquiat and his unique, collage-style paintings rocketed to fame in the 1980s as a cultural phenomenon unlike anything the art world had ever seen. But before that, he was a little boy who saw art everywhere: in poetry books and museums, in games and in the words that we speak, and in the pulsing energy of New York City. Now, award-winning illustrator Javaka Steptoe's vivid text and bold artwork echoing Basquiat's own introduce young readers to the powerful message that art doesn't always have to be neat or clean — and definitely not inside the lines — to be beautiful. Ages 6–12.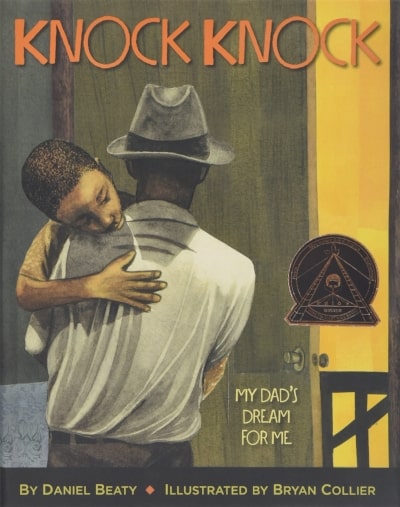 Knock Knock: My Dad's Dream For Me by Daniel Beaty, illustrated by Bryan Collier:
Every morning, I play a game with my father. He goes knock knock on my door and I pretend to be asleep till he gets right next to the bed. And my papa, he tells me, "I love you."
But what happens when, one day, that "knock knock" doesn't come? This powerful and inspiring book shows the love that an absent parent can leave behind, and the strength that children find in themselves as they grow up and follow their dreams. Ages 4–7.
The Book Itch: Freedom, Truth & Harlem's Greatest Bookstore by Vaunda Micheaux Nelson, illustrated by R. Gregory Christie: In the 1930s, Lewis's dad, Lewis Michaux Sr., had an itch he needed to scratch a book itch. How to scratch it? He started a bookstore in Harlem and named it the National Memorial African Bookstore. And as far as Lewis Michaux Jr. could tell, his father's bookstore was one of a kind. People from all over came to visit the store, even famous people Muhammad Ali and Malcolm X, to name a few. In his father's bookstore people bought and read books, and they also learned from each other. People swapped and traded ideas and talked about how things could change. They came together here all because of his father's book itch. Read the story of how Lewis Michaux Sr. and his bookstore fostered new ideas and helped people stand up for what they believed in. Ages 7–10.
Before John Was a Jazz Giant: A Song of John Coltrane by Carole Boston Weatherford, illustrated by Sean Qualls: Young John Coltrane was all ears. And there was a lot to hear growing up in the South in the 1930s: preachers praying, music on the radio, the bustling of the household. These vivid noises shaped John's own sound as a musician. Carole Boston Weatherford and Sean Qualls have composed an amazingly rich hymn to the childhood of jazz legend John Coltrane. Ages 4–8.
Hey Black Child by Useni Eugene Perkins, illustrated by Bryan Collier:
Hey Black child,
Do you know who you are?
Who really are?
Do you know you can be
What you want to be
If you try to be
What you can be?
This lyrical, empowering poem celebrates Black children and seeks to inspire all young people to dream big and achieve their goals. Ages 3–10.
Welcome, Precious by Nikki Grimes, illustrated by Bryan Collier: Literary award winners Nikki Grimes and Bryan Collier celebrate life, love, and family with this gorgeous new picture book. Lulling, poetic text and captivating illustrations welcome a new baby to the wonders of the world, from peanut butter to moonlight. Ages 0–3.
Lullaby (For a Black Mother) by Langston Hughes, illustrated by Sean Qualls: With a few simple words as smooth as a song, the poet Langston Hughes celebrates the love between a Black mother and her baby. The award-winning illustrator Sean Qualls's painted and collaged artwork captures universally powerful maternal moments with tenderness and whimsy. In the end, readers will find a rare photo of baby Hughes and his mother, a biographical note, further reading, and the complete lullaby. Ages 0–4.
Baby Blessings: A Prayer For the Day You Are Born by Deloris Jordan, illustrated by James E. Ransome: This touching story from bestselling author Doloris Jordan celebrates the blessings new parents wish for their babies all through their lives. With a strong emphasis on the bonds families share, the inspirational text is accompanied by exquisite art from renowned illustrator James E. Ransome. Ages 0–4.
He's Got the Whole World in His Hands by Kadir Nelson: What began as a spiritual has developed into one of America's best-known songs, and now for the first time it appears as a picture book, masterfully created by award-winning artist Kadir Nelson.Through sublime landscapes and warm images of a boy and his family, Kadir has created a dazzling, intimate interpretation, one that rejoices in the connectedness of people and nature. Inspired by the song's simple message, Kadir sought to capture the joy of living in and engaging with the world. Most importantly, he wished to portray the world as a child might see it — vast and beautiful. Ages 4–8.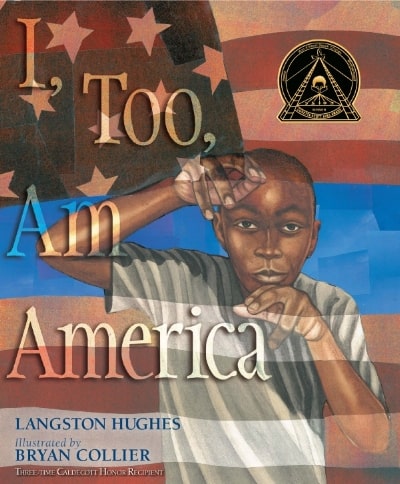 I, Too, Am America by Langston Hughes, illustrated by Bryan Collier: I, Too, Am America blends the poetic wisdom of Langston Hughes with visionary illustrations from Bryan Collier in this inspirational picture book that carries the promise of equality.
I, too, sing America.
I am the darker brother.
They send me to eat in the kitchen
When company comes,
But I laugh,
And eat well,
And grow strong.
Langston Hughes was a courageous voice of his time, and his authentic call for equality still rings true today. Beautiful paintings from illustrator Bryan Collier accompany and reinvent the celebrated lines of the poem "I, Too," creating a breathtaking reminder to all Americans that we are united despite our differences. Ages 4–8.
12 Rounds to Glory: The Story of Muhammad Ali by Charles R. Smith, illustrated by Bryan Collier: From the moment a fired-up teenager won 1960 Olympic gold to the day when a retired legend, hands shaking from Parkinson's, returned to raise the Olympic torch, the boxer known as "The Greatest" waged many a fight. Some were in the ring, against opponents like Sonny Liston and Joe Frazier; others were against societal prejudice and a war he refused to support because of his Islamic faith. The rap-inspired verse weaves and bobs and jabs, while bold collage artwork matches every move, capturing the "Louisville loudmouth with the great gift of rhyme" who shed the name Cassius Clay to take on the world as Muhammad Ali. Ages 10 and up.
Dear Martin by Nic Stone: Raw, captivating, and undeniably real, Nic Stone joins industry giants Jason Reynolds and Walter Dean Myers as she boldly tackles American race relations in this stunning debut. Justyce McAllister is top of his class and set for the Ivy League — but none of that matters to the police officer who just put him in handcuffs. Justyce looks to the teachings of Dr. Martin Luther King Jr. for answers. But do they hold up anymore? He starts a journal to Dr. King to find out. Then comes the day Justyce goes driving with his best friend, Manny, windows rolled down, music turned up — way up, sparking the fury of a white off-duty cop beside them. Words fly. Shots are fired. Justyce and Manny are caught in the crosshairs. In the media fallout, it's Justyce who is under attack. Ages 14–18.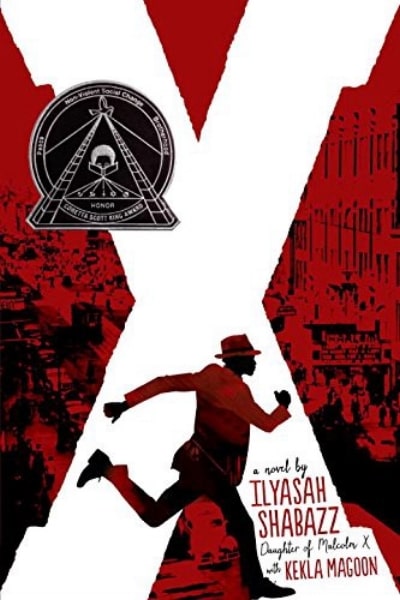 X, A Novel by Ilyasah Shabazz and Kekla Magoon: Co-written by Malcolm X's daughter, this riveting and revealing novel follows the formative years of the man whose words and actions shook the world. Malcolm Little's parents have always told him that he can achieve anything, but from what he can tell, that's a pack of lies — after all, his father's been murdered, his mother's been taken away, and his dreams of becoming a lawyer have gotten him laughed out of school. There's no point in trying, he figures, and lured by the nightlife of Boston and New York, he escapes into a world of fancy suits, jazz, girls, and reefer. But Malcolm's efforts to leave the past behind lead him into increasingly dangerous territory. Deep down, he knows that the freedom he's found is only an illusion — and that he can't run forever. X follows Malcolm from his childhood to his imprisonment for theft at age twenty, when he found the faith that would lead him to forge a new path and command a voice that still resonates today. Ages 14–18.
Becoming Kareem: Growing Up On and Off the Court by Kareem Abdul-Jabbar: At one time, Lew Alcindor was just another kid from New York City with all the usual problems: He struggled with fitting in, with pleasing a strict father, and with overcoming shyness that made him feel socially awkward. But with a talent for basketball, and an unmatched team of supporters, Lew Alcindor was able to transform and to become Kareem Abdul-Jabbar. From a childhood made difficult by racism and prejudice to a record-smashing career on the basketball court as an adult, Kareem Abdul-Jabbar's life was packed with "coaches" who taught him right from wrong and led him on the path to greatness. His parents, coaches Jack Donahue and John Wooden, Muhammad Ali, Bruce Lee, and many others played important roles in Abdul-Jabbar's life and sparked him to become an activist for social change and advancement. The inspiration from those around him, and his drive to find his own path in life, are highlighted in this personal and awe-inspiriting journey. Written especially for young readers, Becoming Kareem chronicles how Kareem Abdul-Jabbar become the icon and legend he is today, both on and off the court. Ages 8–12.
Clayton Byrd Goes Underground by Rita Williams-Garcia: From beloved Newbery Honor winner and three-time Coretta Scott King Award winner Rita Williams-Garcia comes a powerful and heartfelt novel about loss, family, and love. Clayton feels most alive when he's with his grandfather, Cool Papa Byrd, and the band of Bluesmen — he can't wait to join them, just as soon as he has a blues song of his own. But then the unthinkable happens. Cool Papa Byrd dies, and Clayton's mother forbids Clayton from playing the blues. And Clayton knows that's no way to live. Armed with his grandfather's brown porkpie hat and his harmonica, he runs away from home in search of the Bluesmen, hoping he can join them on the road. But on the journey that takes him through the New York City subways and to Washington Square Park, Clayton learns some things that surprise him. Ages 8–12.
The Crossover by Kwame Alexander: "With a bolt of lightning on my kicks . . .The court is SIZZLING. My sweat is DRIZZLING. Stop all that quivering. Cuz tonight I'm delivering," announces dread-locked, 12-year old Josh Bell. He and his twin brother Jordan are awesome on the court. But Josh has more than basketball in his blood, he's got mad beats, too, that tell his family's story in verse, in this fast and furious middle grade novel of family and brotherhood from Kwame Alexander. Josh and Jordan must come to grips with growing up on and off the court to realize breaking the rules comes at a terrible price, as their story's heart-stopping climax proves a game-changer for the entire family. Ages 10-12.
The Stars Beneath Our Feet by David Barclay Moore: A boy tries to steer a safe path through the projects in Harlem in the wake of his brother's death in this outstanding debut novel that celebrates community and creativity. It's Christmas Eve in Harlem, but twelve-year-old Lolly Rachpaul and his mom aren't celebrating. They're still reeling from his older brother's death. Then Lolly's mother's girlfriend brings him a gift that will change everything: two enormous bags filled with Legos. Now, faced with a pile of building blocks and no instructions, Lolly must find his own way forward. Building a fantastical Lego city at the community center provides Lolly with an escape — and an unexpected bridge back to the world. David Barclay Moore paints a powerful portrait of a boy teetering on the edge — of adolescence, of grief, of violence — and shows how Lolly's inventive spirit helps him build a life with firm foundations and open doors. Ages 10–14.
March (Trilogy) by John Lewis, Andrew Aydin and Nate Powell: Congressman John Lewis (GA-5) is an American icon, one of the key figures of the civil rights movement. His commitment to justice and nonviolence has taken him from an Alabama sharecropper's farm to the halls of Congress, from a segregated schoolroom to the 1963 March on Washington, and from receiving beatings from state troopers to receiving the Medal of Freedom from the first Black president. March is the first-hand account of John Lewis' lifelong struggle for civil and human rights, meditating in the modern age on the distance traveled since the days of Jim Crow and segregation. Rooted in Lewis' personal story (including his childhood), it also reflects on the highs and lows of the broader civil rights movement. Many years ago, John Lewis and other student activists drew inspiration from the 1958 comic book "Martin Luther King and the Montgomery Story." Now, his own graphic novel bring those days to life for a new audience, testifying to a movement whose echoes will be heard for generations. Ages 11–15.
Ghost by Jason Reynolds: Running. That's all that Ghost (real name Castle Cranshaw) has ever known. But never for a track team. Nope, his game has always been ball. But when Ghost impulsively challenges an elite sprinter to a race — and wins — the Olympic medalist track coach sees he has something: crazy natural talent. Thing is, Ghost has something else: a lot of anger, and a past that he is trying to outrun. Can Ghost harness his raw talent for speed and meld with the team, or will his past finally catch up to him? Ages 10–14.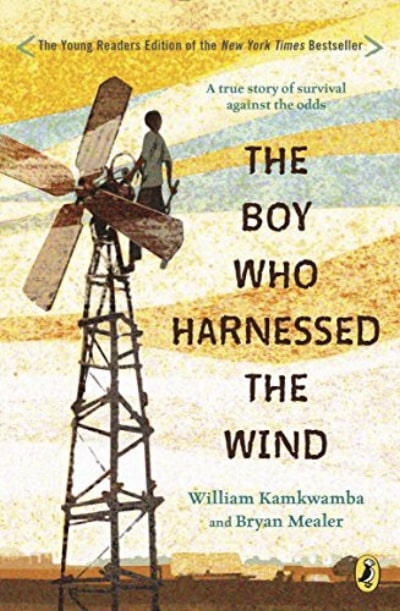 The Boy Who Harnessed The Wind (Young Readers Edition) by William Kamkwamba and Bryan Mealer: When a terrible drought struck William Kamkwamba's tiny village in Malawi, his family lost all of the season's crops, leaving them with nothing to eat and nothing to sell. William began to explore science books in his village library, looking for a solution. There, he came up with the idea that would change his family's life forever: he could build a windmill. Made out of scrap metal and old bicycle parts, William's windmill brought electricity to his home and helped his family pump the water they needed to farm the land. Retold for a younger audience, this exciting memoir shows how, even in a desperate situation, one boy's brilliant idea can light up the world. Complete with photographs, illustrations, and an epilogue that will bring readers up to date on William's story, this is the perfect edition to read and share with the whole family. Ages 11–16.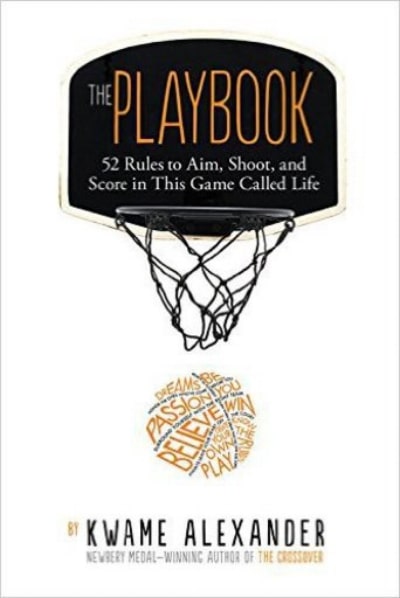 The Playbook: 52 Rules to Aim, Shoot, and Score in This Game Called Life by Kwame Alexander: You gotta know the rules to play the game. Ball is life. Take it to the hoop. Soar. What can we imagine for our lives? What if we were the star players, moving and grooving through the game of life? What if we had our own rules of the game to help us get what we want, what we aspire to, what will enrich our lives? The Playbook is intended to provide inspiration on the court of life. Each rule contains wisdom from inspiring athletes and role models such as Nelson Mandela, Serena Williams, LeBron James, Carli Lloyd, Steph Curry and Michelle Obama. Kwame Alexander also provides his own poetic and uplifting words, as he shares stories of overcoming obstacles and winning games in this motivational and inspirational book just right for graduates of any age and anyone needing a little encouragement. Ages 10–12.
The Pact: Three Young Men Make a Promise and Fulfill a Dream by Sampson Davis, George Jenkins, Ramek Hunt, and Lisa Frazier Page: A remarkable story about the power of friendship. Chosen by Essence to be among the forty most influential African Americans, the three doctors grew up in the streets of Newark, facing city life's temptations, pitfalls, even jail. But one day these three young men made a pact. They promised each other they would all become doctors, and stick it out together through the long, difficult journey to attaining that dream. Sampson Davis, George Jenkins, and Rameck Hunt are not only friends to this day—they are all doctors. This is a story about joining forces and beating the odds. A story about changing your life, and the lives of those you love most… together.